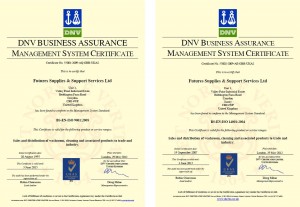 Futures Supplies is delighted to have successfully gained re-certification to BS EN ISO 14001 and BS EN ISO 9001:2008 for a further 3 years until 2015 for its environmental and Quality Management systems.
To gain and maintain certification, Futures Supplies ensures legislative compliance, records information on the operation of its QMS and EMS and demonstrates continual improvement. Increased credibility comes from regular independent assessment to ensure its Environmental and Quality Management System continues to meet and exceed the requirements of the standard.
We all want to have confidence in the goods and services that we use. Trust is essential whether in the high street, the supermarket or buying as a business.
 Accreditation by the United Kingdom Accreditation Service (UKAS) is key to ensuring that consumers, suppliers, purchasers and specifiers can have confidence in the quality of goods and in the provision of services throughout the supply chain.
UKAS accreditation means the evaluator can show to its customers that it has been successful at meeting the requirements of international accreditation standards.
This means that our customers reduce the risk of selecting an incompetent evaluator and paying for, or more seriously, acting upon invalid results. Too many of Britain's companies run the risk of undermining their long-term success by purchasing independent evaluations that are not UKAS accredited.
Futures Supplies' credentials are endorsed by certification to BS EN ISO 14001 and BS EN ISO 9001 through Det Norske Veritas (DNV).
Accredited by United Kingdom Accreditation Service (UKAS), DNV, established in 1864 is dedicated to the principle of safeguarding life, property and the environment.
Award winning and customer focused, we at Futures Supplies, hope our consistency of approach, endorsed by recognised accredited third parties, makes us a trustworthy, dependable and credible choice, to deliver both quality and sustainability throughout our business processes and services.