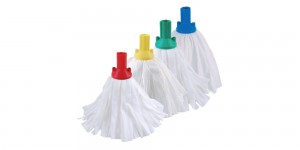 Being certified to BS EN ISO 14001:2004 endorses our commitment to researching innovative and environmentally friendly cleaning systems to offer to our customers.
The Big White Refill Mop System from Robert Scott & Sons Ltd does just that and is a new eco-friendly mopping system which is available from Futures Supplies.
The patented, simple and easy to use system has a detachable socket and clip and a replaceable mop refill so that it can be disposed of in a paper recycling bin and a brand new one fitted.
The plastic socket and clip can be washed and reused many times and whilst it is colour coded for ease, it can also prevent cross contamination in environmentally sensitive areas.
With over 700 tonnes of plastic mop sockets being bought and sold by the UK cleaning industry and most of which ends up in landfill, this system is more hygienic, more environmentally friendly but most importantly less costly for your business.