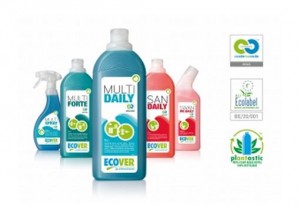 Combining excellent cleaning power with credible sustainable credentials has always been a priority for Futures Supplies when selecting a range of products for our customers.
We  are pleased to bring you a new range of products from Ecover Professional which are Cradle to Cradle Certified at Silver level and are the first professional cleaning products to have received the mark, licensed by the Cradle to Cradle Products Innovation Institute.
This Certification for product manufacturing is a widely recognised positive force for society, economy and the planet and the Standard is a multi-attribute, continuous improvement methodology that provides a path to manufacturing healthy and sustainable products for the world we live in.
Three new highly concentrated products, Multi Daily, Multi Forte and San Daily, are now available from Futures Supplies at www.futures-supplies.co.uk