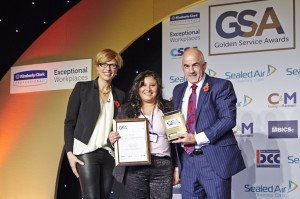 The Golden Service Awards (GSA), organised in partnership with the Cleaning & Support Services Association (CSSA) are designed to recognise service excellence, provide a benchmark for quality and a means of identifying leaders in the cleaning industry.
The awards were handed out at a glittering awards ceremony at the Lancaster London hotel on Friday 1st November and the team at Futures Supplies was delighted to give a big shout out to the Principle Cleaning Team, who we have worked in partnership with for some 18 years on achieving not just one, but two prestigious Awards.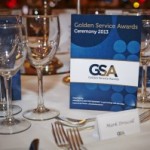 Here's the full list of this year's worthy winners…………………………..
Best Cleaned Premises – Central and Local Government In-House Cleaning Teams – Bradford District Care Trust for the Airedale Centre for Mental Health
Best Cleaned Premises – Small Education Establishment –  VINCI Facilities for Sinfin Primary School, Derb
Best Cleaned Premises – Large Education Establishment –  MITIE for Liverpool Community College
Best Cleaned Premises – Public Service Buildings –  Eurest Services for the Northern Ireland Assembly
Best Cleaned Premises – Healthcare Establishment With Fewer Than 250 Beds – Derrycourt Cleaning Company for LauraLynn Children's Hospice, Dublin
Best Cleaned Premises – Healthcare Establishment With More Than 250 Beds –  Serco for the NHS Forth Valley Hospital, Larbert
 Best Cleaned Premises – External Pedestrian Areas and Street Furniture – Interserve FM for Paternoster Square, London
Best Cleaned Premises – Individual Retail Establishment –  Exclusive Contract Services for Sainsbury's Superstore, Hayes
Best Cleaned Premises – Shopping Mall –  LCC Support Services for the Grand Arcade Shopping Centre, Cambridge
Best Cleaned Premises – Manufacturing –  OCS Group UK for Mercedes AMG – High Performance Powertrains, Brixworth
Best Cleaned Premises – Transport Terminal –  MITIE for Birmingham Airport
Best Cleaned Premises – Mode of Transport –  Dynamiq Cleaning for Go-Ahead (buses), London
Best Cleaned Premises – Hospitality –  OCS Group UK for the National Exhibition Centre (NEC), Birmingham
Best Cleaned Premises – Office Areas Below 250,000 sq. ft. –  OCS Group UK for BUPA, Staines
C&M Best Cleaned Premises – Office Areas Above 250,000 sq. ft. – Principle Cleaning Services for the Lloyd's Building, London
The Best Specialist Cleaning Company Award –  Eden Professional Cleaning Services for Lonza Biologics PLC, Slough
The CSSA's Award for Excellence in a Small Cleaning Business – Enhance Office Cleaning
The Healthy Workplace Award – Sponsored by Kimberly-Clark Professional* – Julius Rutherfoord
The Diversey Environmental Awareness Award –  Turner Facilities Management for Newsprinters, Knowsley
The BICSc Industry Training Award –  Turner Facilities Management for Rugeley Power Station, Staffordshire
Service Delivery Innovation of the Year –  OCS Group UK for the National Exhibition Centre (NEC), Birmingham and Cape Environmental Services for innovation in North Sea Offshore operations
The BCC Site Supervisor of the Year –  Angelica Martinez from Principle Cleaning Services for the Lloyd's Building, London
The Kimberly-Clark Professional Cleaning Operative of the Year – Joanna Wajda from Derrycourt Cleaning Company for LauraLynn Children's Hospice, Dublin