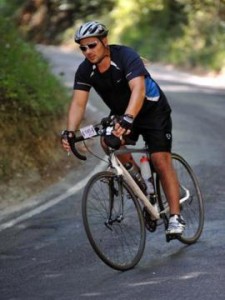 Taking an active approach in supporting Futures Supplies' commitment to CSR, Office Manager  Andrew Hills will be taking part in the 'UK End 2 End' one thousand mile charity bike ride in May, all the way from Lands' End to John O'Groats on behalf of his chosen charity Action Medical Research. 
Focusing on child health, Action Medical Research is a leading UK charity dedicated to funding for the very best medical research to help babies and children affected by disability, rare diseases and infections.  Andy is hoping to raise £5,000 to help fund their vital research through generous sponsorship.
As part of his training, Andy has already taken part in several of the charity's 100-mile day rides in preparation for the massive 115 mile average a day he will be cycling. Starting on the most southwesterly tip of England, Andy and a group of other participants will pedal their way through the beautiful British countryside of Devon and Cornwall, the Welsh border, Lake District into Scotland and to the most northern point of Britain.
Celebrating its sixteenth year in business, Futures Supplies is an independent distributor of washroom, cleaning and janitorial products. Award winning and highly successful, the company encourages and has actively supported numerous fund raising activities including sponsored walks and skydives, raising valuable funds for charities as well as engaging staff with its community.
"I was encouraged to cycle to work as part of the company's award winning travel plan and now enjoy it as a leisure pursuit. Whilst enormously challenging, I am looking forward to admiring the beauty of Great Britain whilst at the same time having a positive effect on my community by raising funds for this worthwhile charity." said Andy Hills.
You can find out more about Action Medical Research and sponsor Andy by following the link  http://www.action.org.uk/sponsor/ahills or follow Andy's progress on Futures Supplies' Twitter and Facebook sites.