Celebrating the best of Croydon's business talent, more than 40 short listed businesses out of hundreds of initial entries went head to head in the finals of The Croydon Business Awards 2011. The ceremony and Gala Dinner held at Fairfield Halls in April saw Futures Supplies & Support Services Ltd presented with a fantastic double win on the night.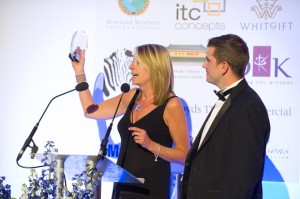 Futures Supplies, a South London based independent distributor of washroom, cleaning and janitorial products business was recognised and rewarded for its exceptional commitment to delivering sustainable cleaning solutions and its CSR activities, collecting the top awards for both the 'Best Business for Sustainability' and 'Best Business for Community Contribution'.
The Croydon Business Awards 2011 in association with Barclays have been developed by South London Business in order to reward and celebrate the most dynamic and innovative businesses in the borough.
Based in South London and this year celebrating its sixteenth year of trading, Futures Supplies was also 'Highly Commended' in the 'Best Business for Training & Development' and 'Best Medium Sized Business'. No stranger to winning awards, the company boasts numerous accolades including the highly acclaimed 'Golden Green Apple'.
Mandie Kemp, Managing Director says, "We are living, breathing proof that you can run a profitable, sustainable and successful business and still change lives through engaging and supporting the local and wider community. At Futures Supplies, we see supporting young people as our legacy. Give a young, unemployed person an opportunity …and you are helping to build the future for generations to come."
CarbonNeutral since 2006, Futures Supplies' objectives are to deliver service, quality, value, reliability and sustainability through continuous improvement. More details on the company, its products, services and CSR activities can be found at www.futures-supplies.co.uk