xx BioHygiene Complete Washroom Cleaner 1L
BioHygiene Complete Washroom Cleaner
An enzyme and microbial biotech product designed to tackle all washroom areas offering superior cleaning and odour control using renewable and sustainable ingredients.
Cleaner
Immediate body fat, scale and other washroom specific contaminants removal
Makes floors less slippery and hazardous
Bacteria and enzymes remove odours at source
Leaves surfaces streak free
Neutral pH
Leaner
Super concentrate (1L = 50x 750ml triggers)
Reduces transport and storage needs
Low cost in use
Biofilms offer residual protection
Available in 1L and 5L
Replaces multiple products to rationalise ranges
Safe on all surfaces
Greener
Reduced carbon footprint
Naturally derived ingredients
Minimal aquatic toxicity
Not tested on animals
100% PCR – no single use plastic
100% Biodegradable
VOC free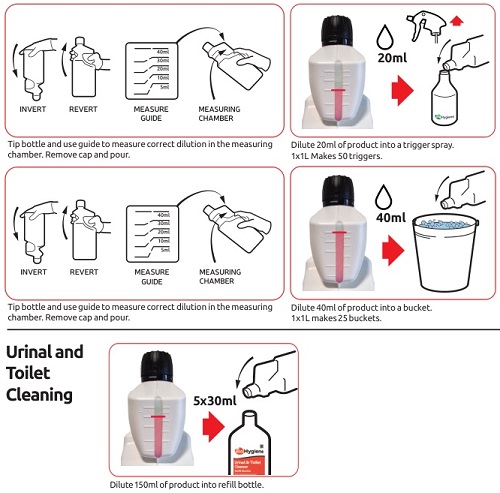 BioHygiene – The UK's leading manufacturer of Biotech cleaning products
Post Consumer Recycled bottles provide a circular life cycle reducing CO2e and removing physical plastic pollution.
Cardboard made from 100% recycled material, is fully recycled and FSC certified.
100% UK Manufacture and supply chain.
Zero waste to landfill.
Accredited to Carbon PAS2060, carbon offset with UK tree planting and VCS projects within the Amazon.
ISO 9001:2015 & ISO14001:2015.

BioHygiene – The UK's leading manufacturer of Biotech cleaning products 
100% Readily Biodegradable, Minimal aquatic toxicity, Never tested on Animals 
Biotech Cleaning / Recycled Packaging
Ex VAT:
£8.25
Inc VAT:
£9.90
Specifications are subject to change. Images are for guidance only and may vary from the actual product appearance.
BICSc 'Colour coding for the Cleaning Industry' guidance