Innu-Science
Founded in 1992, by two young biologists concerned about the environment and represented in over 30 countries around the world, Innu-science offers highly effective eco-friendly, non- toxic products to the UK market.
Endorsed by the highly recognised EU Ecolable, the products are highly concentrated and effective. The range is non-hazardous; VOC and EDTA free, replacing many harmful and unsafe chemical products currently on the market.
A sustainable solution for daily floor Cleaning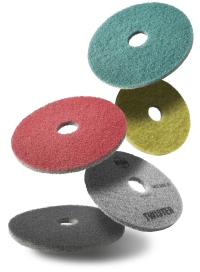 Twister Pads
Twister™ is a revolutionary cleaning system of floor pads prepared with billions of microscopic diamonds, which clean and polish the floor mechanically instead of using chemicals.
Twister can be used on the most common floor surfaces such as terrazzo, natural stone, concrete, vinyl and epoxy.
Twister is the tool that transforms your dull, worn floors into clean, glossy and brightly polished floors. Twister has unique advantages that benefit both the cleaning company and the floor owner.
According to the Swedish Society for Nature Conservation, using Twister instead of conventional methods on natural stone floors can save approximately 7,200,000 litres of cleaning detergent currently used in traditional daily floor maintenance in Sweden. Since Twister works perfectly on every other type of floor except textile, the potential chemical reduction worldwide is enormous!
Twister™ White
Step 1 Will remove tiny scratches from the surface and leave a silky matt, cleaned and well prepared surface.
Twister™ Yellow
Step 2 Will leave a surface that is well prepared for the final step of the Twister™ method.
Twister™ Green
Final step for daily maintenance, this step will effectively maintain a high gloss on the surface when used regularly. Ideal for use on floor surfaces such as stone, vinyl and linoleum as well as high-speed polishing of HTC Superfloor™, terrazzo and natural stone surfaces.
Twister™ Red
For heavy duty cleaning of worn stone floors. Twister Red will effectively remove scratches and stains from the surface leaving a clean, matt surface prepared for the subsequent Twister steps.
A Sustainable Choice for Your Washroom Consumables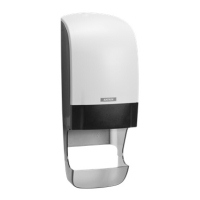 Toilet Tissue - System
If you are constantly searching for a washroom solution that delivers on quality, value and sustainability, Futures Supplies believes the Katrin System Toilet Tissue System ticks all the boxes.
The co-ordinated dispensers are the most reliable in the market place and control usage, delivering significant cost savings and exceptional value for money.
High capacity, holding a 1600 sheet roll, the System Toilet Tissue Dispenser prevents cross contamination underneath the dispenser where germs commonly lurk because the roll is always visible. There is no searching for the roll inside the dispenser and you can see at a glance if the dispenser needs topping up, the plugs sit neatly in the core catcher.
The toilet rolls carry the highly acclaimed Nordic Swan Eco Label, offering the best in class environmentally. There is no wastage as every sheet is used and with the dispenser holding more than the equivalent of 5 conventional toilet rolls or 6 sleeves of bulk pack storages, issues are significantly reduced. They are labour saving too!
Toilet Tissue - Bulk Pack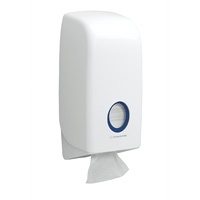 If you are using Jumbo Toilet Tissue, Mini Jumbo and Conventional Toilet Tissue, we would recommend considering a switch to a Bulk Pack system. This system provides an individual dispensing top up facility preventing the need for the disposal of 'end rolls', controls pilferage and reduces overall usages resulting in cost savings and environmental benefits.
Bulk pack is self-presenting thus preventing cross contamination and controlling usage. The system is 'a top up system' so it never runs out, unlike Conventional or Jumbo Toilet Rolls where a decision has to be made to dispose of an end roll or leave spares in the washroom, which often end up in on the floor or have to be throw away.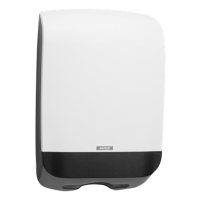 Hand Towels – ZigZag, One Stop, Non Stop and Interleaved Towels
If you are currently using C Fold Hand towels, these present closed and often come out of the dispenser in 'clumps'. We would recommend considering a switch to interleaved towels, these are individually dispensed open or 'self-presenting' ready for use.
Self-presenting hand towels help prevent cross contamination and control usage resulting in cost savings and considerable benefits to the environment.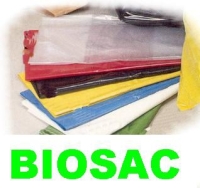 Refuse Sacks – BioSacks
Degradable Bio Sacks are manufactured to accelerate the decomposition of the plastic product to the point where it is mineralised into its basic component elements of water, carbon dioxide and biomass (inert mineral compounds).
The polymers are broken down by the action of natural light, oxygen, heat and movement and in conditions where microbes are present such as landfill or maintained compost where the carbon chains biodegrade, unlike other plastic bags/sacks which can take hundreds of years to degrade, if ever.
Frequently asked questions and answers relating to bio sacks can be found www.futures-supplies.co.uk/downloads2/008.003E.pdf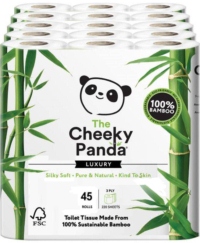 The Cheeky Panda Bamboo Range
Cheeky Panda offer a sustainable alternative to wood pulp toilet rolls and hand towels that are currently available.
Luxuriously soft, Cheeky Panda toilet rolls, hand towels and tissues are made from FSC® certified tropical bamboo, an excellent renewable resource which takes as little as 18 months to grow and is 100% biodegradable.
Ultra-sustainable: Bamboo is the world's fastest growing plant. It grows 30 times faster than trees and being a grass, bamboo does not require replanting after harvest.
Super kind to skin: Bamboo is naturally hypoallergenic and kind to skin. The long fibre in bamboo contains less dust particles, which reduces irritation for people who suffer with sensitive skin.
Pure & Natural: Bamboo tissue is free from fertilisers, pesticides, de-inking agents, B.P.A. chlorine bleach or fragrances.
Carbon Balanced: Bamboo toilet tissue has 65% lower carbon than traditional paper (that's a saving of one ton of carbon per 4,500 rolls). Cheeky Panda products are now Carbon Balanced with The World Land Trust, saving plants and animals in endangered rain forests.