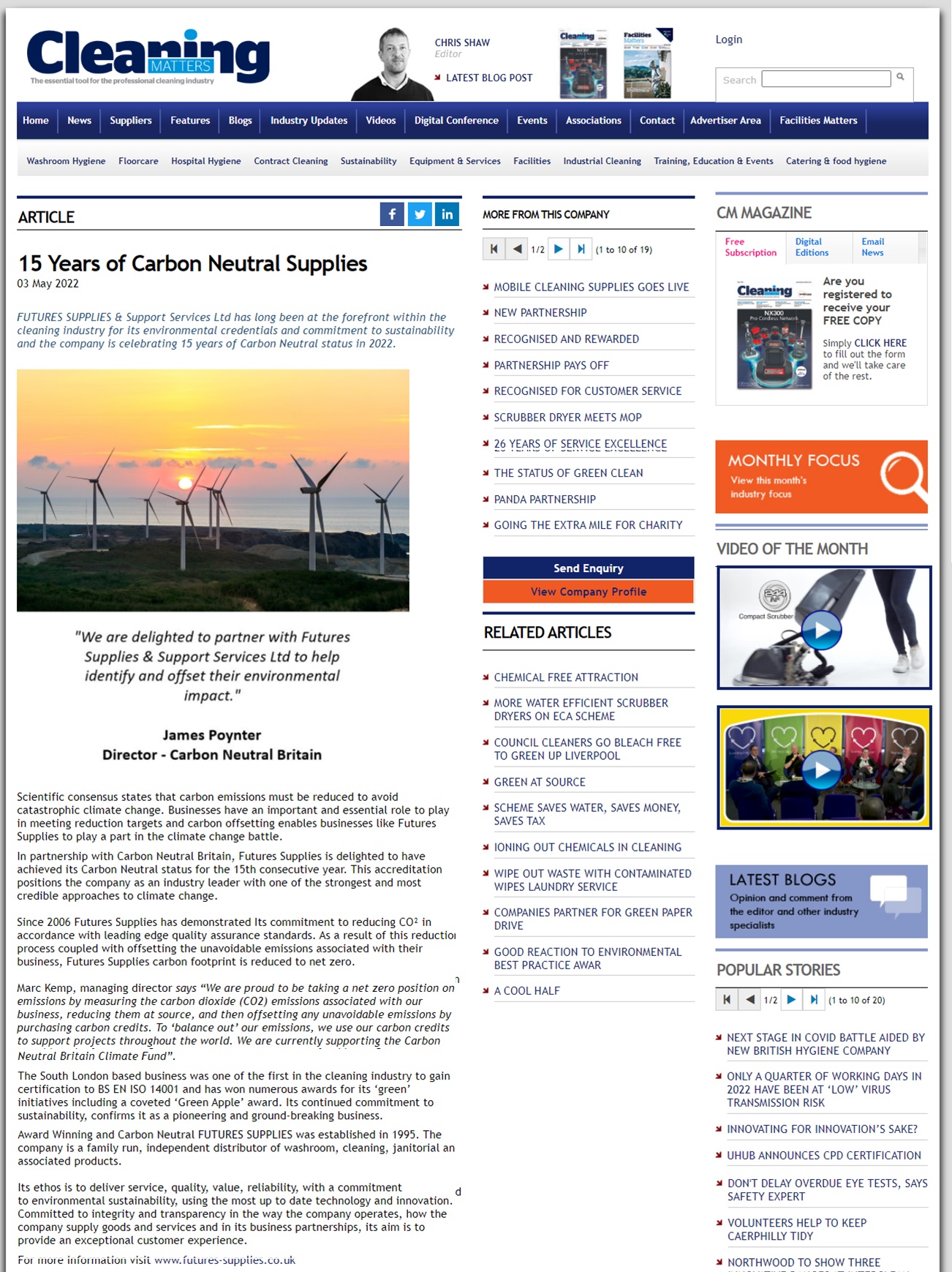 .
FUTURES SUPPLIES & Support Services Ltd has long been at the forefront within the cleaning industry for its environmental credentials and commitment to sustainability and the company is celebrating 15 years of Carbon Neutral status in 2022.
Scientific consensus states that carbon emissions must be reduced to avoid catastrophic climate change. Businesses have an important and essential role to play in meeting reduction targets and carbon offsetting enables businesses like Futures Supplies to play a part in the climate change battle.
In partnership with Carbon Neutral Britain, Futures Supplies is delighted to have achieved its Carbon Neutral status for the 15th consecutive year. This accreditation positions the company as an industry leader with one of the strongest and most credible approaches to climate change.

Since 2006 Futures Supplies has demonstrated Its commitment to reducing CO² in accordance with leading edge quality assurance standards. As a result of this reduction process coupled with offsetting the unavoidable emissions associated with their business, Futures Supplies carbon footprint is reduced to net zero.

Marc Kemp, managing director says "We are proud to be taking a net zero position on emissions by measuring the carbon dioxide (CO2) emissions associated with our business, reducing them at source, and then offsetting any unavoidable emissions by purchasing carbon credits. To 'balance out' our emissions, we use our carbon credits to support projects throughout the world. We are currently supporting the Carbon Neutral Britain Climate Fund".
The South London based business was one of the first in the cleaning industry to gain certification to BS EN ISO 14001 and has won numerous awards for its 'green' initiatives including a coveted 'Green Apple' award. Its continued commitment to sustainability, confirms it as a pioneering and ground-breaking business.
Award Winning and Carbon Neutral FUTURES SUPPLIES was established in 1995. The company is a family run, independent distributor of washroom, cleaning, janitorial and associated products.

Its ethos is to deliver service, quality, value, reliability, with a commitment to environmental sustainability, using the most up to date technology and innovation. Committed to integrity and transparency in the way the company operates, how the company supply goods and services and in its business partnerships, its aim is to provide an exceptional customer experience.
See the original Article – https://www.cleaning-matters.co.uk/page_1227494.asp
For more information visit www.futures-supplies.co.uk