The Seep cellulose sponge with loofah scourer is 100% plastic free and works just as well as (if not better) than a plastic sponge. It's perfect for cleaning your dishes and wiping up spills.
Materials
- Cellulose wood pulp and loofah fibre
Product Care
- Best to dry out between uses to prevent mold
- Freshen up by washing in dishwasher or washing machine (30 or 40 degrees Celsius)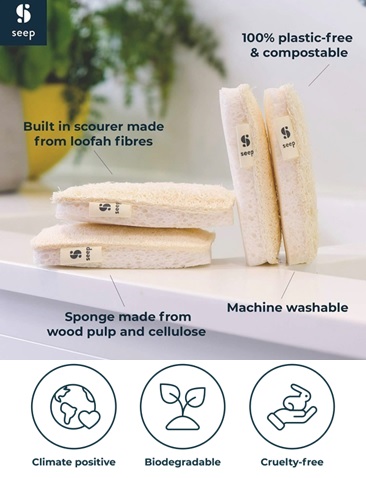 Seep Living - 100% Plastic Free Cleaning Products
Circular Cleaning
Plastic free cleaning products made from sustainable and renewable materials like loofah or endlessly recyclable. Once they outlive their usefulness, Seep products are compostable or fully biodegradable. That means their materials harmlessly seep back into the earth.
Beautiful & Long Lasting
Sleek products look good and can sit pride of place. No more bobbly bits that relegate poor products to toilet cleaning. And, upon reaching the end of a long life, it's remarkably easy to cleanly dispose of Seep products.
Safe & Easy To Use
None of the toxins commonly found in plastic-based alternatives (like Triclosan) are in Seep products. Designed to; work well or better than plastic equivalents and; be simple to maintain.
Climate positive
Seep Living are officially a "Climate Positive" company which means they reinvest 3x their own carbon footprint.
They have partnered with climate charity "On A Mission" to help reduce their impact on the Earth.
Firstly, On A Mission helps measure the carbon footprint of each of the products.
Seep Living then offset this footprint through re-investing in their carefully selected portfolio of forest regeneration projects.