Toucan Eco Worktop
With just water, salt and a small electrical current Toucan Eco Worktop creates a powerful multipurpose antibacterial disinfectant cleaner.
One that replaces general disinfectant, all-purpose cleaners, kitchen and bathroom cleaners, glass and metal cleaners, and deodorisers.
After seven days, the solution turns back to slightly salty water.
Toucan Eco Worktop is designed to clean and disinfect smaller workplaces and the home, as well as to trial the range.
The model let's you make one litre of powerful, eco-friendly and safe multipurpose disinfectant cleaner that kills up to 99.99% of germs using just water, salt and electricity. That's it. It's powerful, eco-friendly and safe, and replaces most chemical cleaners and the single use plastic bottles they are supplied in.
The solution contains 99.9% water, hypochlorous acid and sodium hypochlorite at a gentle pH. It is certified to EN 14476 and EN 16777 for viruses and EN 1276 and EN 13697 for bacteria, registered as an EU biocide, is food-safe and hypoallergenic.
To make, simply fill with tap water, 2g of table salt, then activate which takes five minutes. Then spray, wipe or mop and surface, including glass and fabrics. For stains, spray and leave to soak. Can be used as a deodoriser and is a safe way to fog larger areas.
The kit includes the 1L jug, activation base, measuring spoon, stirring rod, atomiser spray bottle, some salt to get you started, and a 1-year guarantee.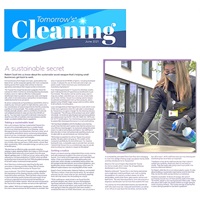 What puts the 'eco' in Toucan Eco?