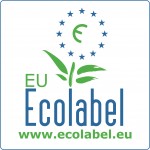 Reducing environmental impact through its supply chain is one of Futures Supplies' key objectives as part of its environmental commitment, endorsed by its independent certification to BS EN ISO 14001.
Futures Supplies supply partner Kimberly-Clark has recently selected the European Ecolabel as its label of choice. The criteria for measuring performance are closely aligned with their approach to sustainability. Striving to ensure our products do what you need them to do whilst considering ways to reduce the environmental impact at each stage of the product life cycle, the Ecolabel analyses the impact of the product throughout its life cycle making it a good strategical fit.
The European Ecolabel is your guarantee of responsible manufacturing from "cradle to grave". The environmental criteria behind the Ecolabel are tough, and products are measured against more than one element. They are measured and analysed on performance against the impact of the product on the environment throughout its life cycle, starting from extraction of raw materials in the pre-production stage, through to production, distribution and disposal of the product. Only products which meet these strict environmental standards are entitled to use the Ecolabel – giving consumers a label they can genuinely trust.
To find out which products are in the Eco bundle and carry the Ecolabel Certification, visit our website now where you can also find listed some of the commonly found 'green labels', 'green logos' and 'ecolabels', along with further explanations and links to the organisations responsible for the claims.
http://www.futures-supplies.co.uk/environment.asp#certifications