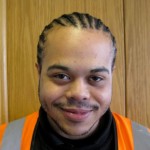 Futures Supplies is delighted to announce that Perry Wilson has become the first Apprentice to successfully complete his apprenticeship, and to be offered a full time position with the company, in the Logistics Department. Perry follows in Callum's footsteps, who was offered a full time position in 2012, following completing his successful apprenticeship with Futures Supplies in business and administration.
Perry worked incredibly hard and we are delighted to see yet anot
her young person join the team after successfully gaining a NVQ and completing 9 months training. In his role as Warehouse Assistant, we see Perry responsible for supporting customers when collecting from our warehouse in Croydon, accurately picking goods and assisting the loading of vans.
Perry says, "I really like to keep fit and active and working in the warehouse is something which helps with that.  Being part of a family- run business means that I have got to know everyone and I am really enjoying my work."