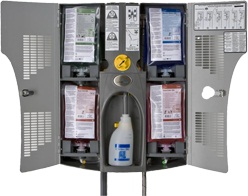 Supporting customers to reduce cost and deliver sustainability benefits, Futures Supplies is now offering super concentrated cleaning products with dilution control platform in the form of QuattroSelect from Diversey.
The system allows up to four cleaning products to be prepared in different dilution rates and speeds to fill any combination of trigger spray bottles, buckets and cleaning machines.  Products are supplied in ergonomic and easy to handle pouches, placed in a secure, wall mounted and lockable QuattroSelect cabinet which ensures there is no risk of contact with undiluted product.
One pouch of floor cleaner can prepare 1250 litres of ready-to-use solution and across office cleaning contracts can reduce chemical usage significantly, therefore reducing costs.