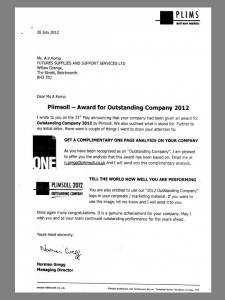 Futures Supplies is delighted to have been recognised with the accolade of 'Outstanding Company 2012' to add to its already impressive number of awards.
The award is given by Plimsoll Publishing Ltd, the world's leading provider of market reports and company analysis who stated that it is a result of hard work, diligence and commitment. It also identified Futures Supplies as a business that has maintained outstanding performance over a period of time, due to sound management.
Futures Supplies was also listed in the report as a Best Trading Partner and Fastest Growing Company in its industry.
Great stuff hey!