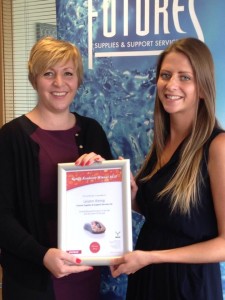 In line with our ethos of delivering service, quality, value and reliability we believe training, whilst an investment in both time and money, is vital to any successful and thriving business and Futures Supplies encourage staff to regularly attend courses that are both meaningful and enjoyable.
With training success at our fingertips, we are delighted to announce that congratulations go to our very own Leiann Kemp, Customer Service Manager & PA to the MD, for being awarded the Katrin Academy 2013 – Scholar of the Year for the Katrin Training Academy programme beating over 70 other candidates who attended the programme.
The Katrin Academy, based at the head office premises of Metsa Tissue in Walton on Thames, is open to anyone selling washroom products or involved in Facilities Management and Contract Cleaning.  The Academy is designed to be about learning through practical example and Leiann excelled in the programme which will assist in her future working environments. Whilst there, she attended and took part in interactive sessions with presentations, videos and practical exercises.
Leiann joined Futures Supplies in 2006 as a general office assistant and has worked her way up the ladder due to her hard work and dedication.  As 'Scholar of the Year', Leiann's prize will be a visit to the Metsa Tissue Mill in Finland next February.
 Jo Long MBICSc, Sales Manager AfH UK, Metsa Tissue Ltd said, "I just wanted to congratulate you officially. You did an amazing job to beat over 70 other candidates around the country, so from all of us at Metsa Tissue, A MASSIVE WELL DONE"