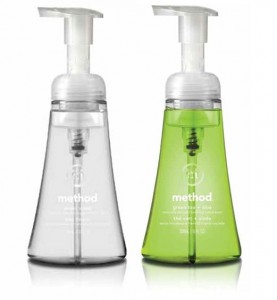 Continuing its commitment to deliver innovations and new products to its customers, Futures Supplies is delighted to introduce Method foaming soap from Ecover to its range.
Ecover, whose existing range of sustainable cleaning, laundry, floorcare, kitchen and washroom products are already popular with our customers, recently acquired Method, the leaders in premium planet friendly, personal care products, to create the world's largest green cleaning products manufacturer.
Non- toxic, safe for people and the planet, the pump up foaming soap available in Green Tea & Aloe or Sweet Water is a premium product, biodegradable and leaves hands soft and clean – we think it looks great too!