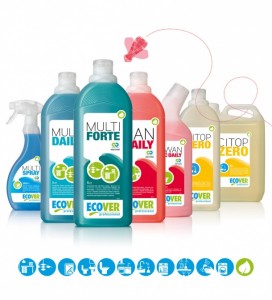 To further assist our customers in electing sustainable products, Futures Supplies brings you the Ecover Professional range of ecologically responsible cleaning solutions which has recently re-positioned the brand and designed new labels to enable a more direct and clearer visibility of the product application.
Ecover Professional has not changed its branding over the last fifteen years. Establishing a clear brand of labelling with icons that are instantly clear and recognisable to alleviate confusion for the commercial market is a true leap forward.
As a result of this new branding,  Ecover Professional has been awarded with the International Red Dot Award. Winning the coveted prize in its Communication Design category, 'Packaging', Ecover's objective in the design was to have  clear, appealing icons for usage and dosage, with a fresh unique look that reflects individuality.
The new labels are now appearing on products available from Futures Supplies now.