A study by Plimsoll Publishing Ltd has rated Futures Supplies and Support Services Ltd as "STRONG" in their latest analysis of the UK's largest companies. This is the highest accolade awarded by Plimsoll and reflects our outstanding performance over the past 12 months.
This has been achieved in a difficult marketplace where a number of competitors are in financial danger and a record number are making a loss.
The Plimsoll analysis individually asses each company and provides a rating of Strong, Good, Mediocre, Caution or Danger, we are delighted to be one of only a minority of companies in our sector rated at the top of our field as "Strong".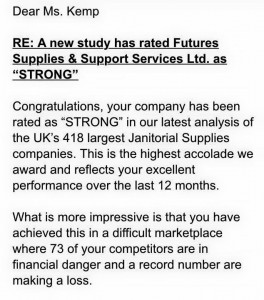 You can get the latest report industry report at www.plimsoll.co.uk <http://www.plimsoll.co.uk>