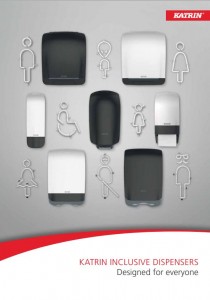 Futures Supplies are delighted to bring you the new Katrin Range of Dispensers launched by Metsä Tissue for the workplace and beyond.
This new range takes into account the needs of a wide selection of users and of course includes children, the elderly and those who are visually impaired or have physical disabilities.
With Katrin Inclusive Dispensers, the paper is easy to remove, and can be pulled out with one hand. Contrasting colours make the dispenser openings easy to see. Large "push faces" are effortless to use, and braille text also helps the visually impaired.
Dispensers that open upwards make it much easier for people of all heights to fill and simple graphical signage shows how they should be used and maintained. All of the dispensers are easy to disassemble and are made from durable ABS and polypropylene plastic, both of which are totally reusable.
The new Katrin Inclusive Dispenser range consists of 10 dispenser types, including new models for the Katrin System Hand Towel and Toilet Roll range. The extended range includes matching bins as well as well as elegant dispensers for facial tissues.
For more information on the dispenser's, our On Loan and Installation arrangements please contact the office on 020 8689 2072, visit www.futures-supplies.co.uk or download the new brochure here https://www.futures-supplies.co.uk/downloads2/Katrin_Brochure_Inclusive_Dispensers.pdf