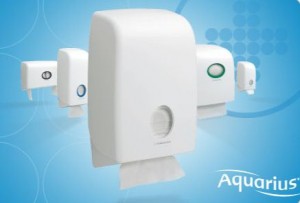 Supporting customers and their employees to create a healthy hygienic workplace, while providing real value, is a key aim of the Futures Supplies' team.
The Aquarius Dispenser range produced by Kimberly-Clark delivers its most hygienic system to date with its unique and stylish design. The key features include a patented overfill device, stylish viewing window and concealed locking mechanism. These features mean the dispensers are less likely to jam preventing wastage and prevent pilferage, delivering savings in both cost and usage.
Exceptionally hygienic, the quality, compact design also makes them sustainable as less plastic is used in the manufacturing process.
To upgrade your washrooms now, call us today to arrange a free survey and consultation for the best cost in use recommendations on 020 8689 2072.