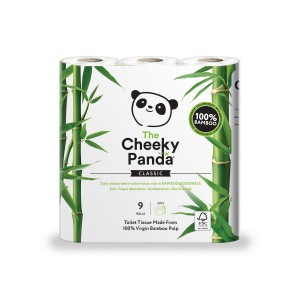 We recognise innovation and green products remain high on the agenda of procurement departments. Futures Supplies continues to research the market place to deliver innovations throughout our business processes and products.
Delivering an award winning service and sustainability, we are delighted to bring you an alternative to the wood pulp toilet rolls that are currently available – toilet rolls made from bamboo!
Cheeky Panda toilet rolls are made from FSC® certified tropical bamboo. They are luxuriously soft and are now on our shelves.
Bamboo is an excellent renewable resource and offers an alternative to the pulp tissue products already in the market place, it takes as little as 18 months to grow and is 100% biodegradable.
Why not give Cheeky Panda bamboo toilet rolls try?
To buy some now or find out more about Cheeky Panda toilet rolls visit the website or just call us on 020 8689 2072